Welcome to our first Fourth Fridays Fairy Tale Prompt (slightly late). And here's the prompt:
Copyright Claudia Bernasconi Esposito. Source.*
How to Participate
You have until the fourth Friday of next month to use this prompt to inspire a piece of art, music, or writing.
Your piece does not have to be supernatural, as long as it is inspired by the fairy tale prompt.
Post your finished piece on your blog, site, or other online presence.
Link your virtually published piece to this post. (See inlinlz tool at the bottom.)
Read (or view) the other entries. Offer insights, appreciation, constructive criticism, and encouragement. Have fun.
Use the following image in your post and link back to this post so that other people may find us and participate in the future.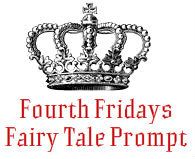 I look forward to sharing the creative experience with you!
In the spirit of sharing,
please have a look at Bolts of Silk and my poem
, and do consider submitting something in support of this worthy publication.
* Please always give credit and link back to the original source of the prompt. It should go without saying--not under any circumstances is the prompt to be used for personal monetary gain; it is the rightful creative property of another. Nor does Spinning Straw into Gold receive any compensation through the use of these prompts.