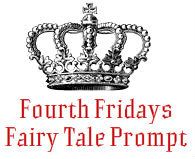 "The World's Bride"
Fourth Friday Fairy Tale
prompts are
exercises for the fairy tale, writing, and fairy tale-writing online community for the purpose of cultivating creativity, helping with, and sharing our art with others
.
This poem has been hard to find my footing on. Perhaps because the prompt was a complete, though mysterious, story in itself. "I cannot explain," it says, and that strikes me as very appropriate.
Martine Johanna


The World's Bride
The bride of the world
goes in ceremony,
hair dressed with shell and
pinned with a tiny bird's skull.
She makes her vows in a court
lit by clouds, curtained
with night-fabric, moon-studded:
powdered, coiffed, ruffed,
anise-brushed,
she unbuttons plush turf
from around her wrists
of moon-bath flesh.
Come to retire
Anubis's feather,
she holds three offerings:
a dandelion scepter gone
to seed; a bubble for a
globus cruciger; in the slope
of her breasts, the answer
to an half-formed question.