An interview with artist Cathy Sidhu, of The Old Burrow
[Dear readers, the mythic tradition lives and breathes, but never ceases to shock me with its timelessness and universality. You'll know what I mean when you see these pictures by Cathy of the Old Burrow. I've never seen images like these before, and yet, I know them intimately. So when she so graciously agreed to an interview for Spinning Straw into Gold, I felt the profound communion of those-who-know-magic more than ever. Enjoy!--Christie]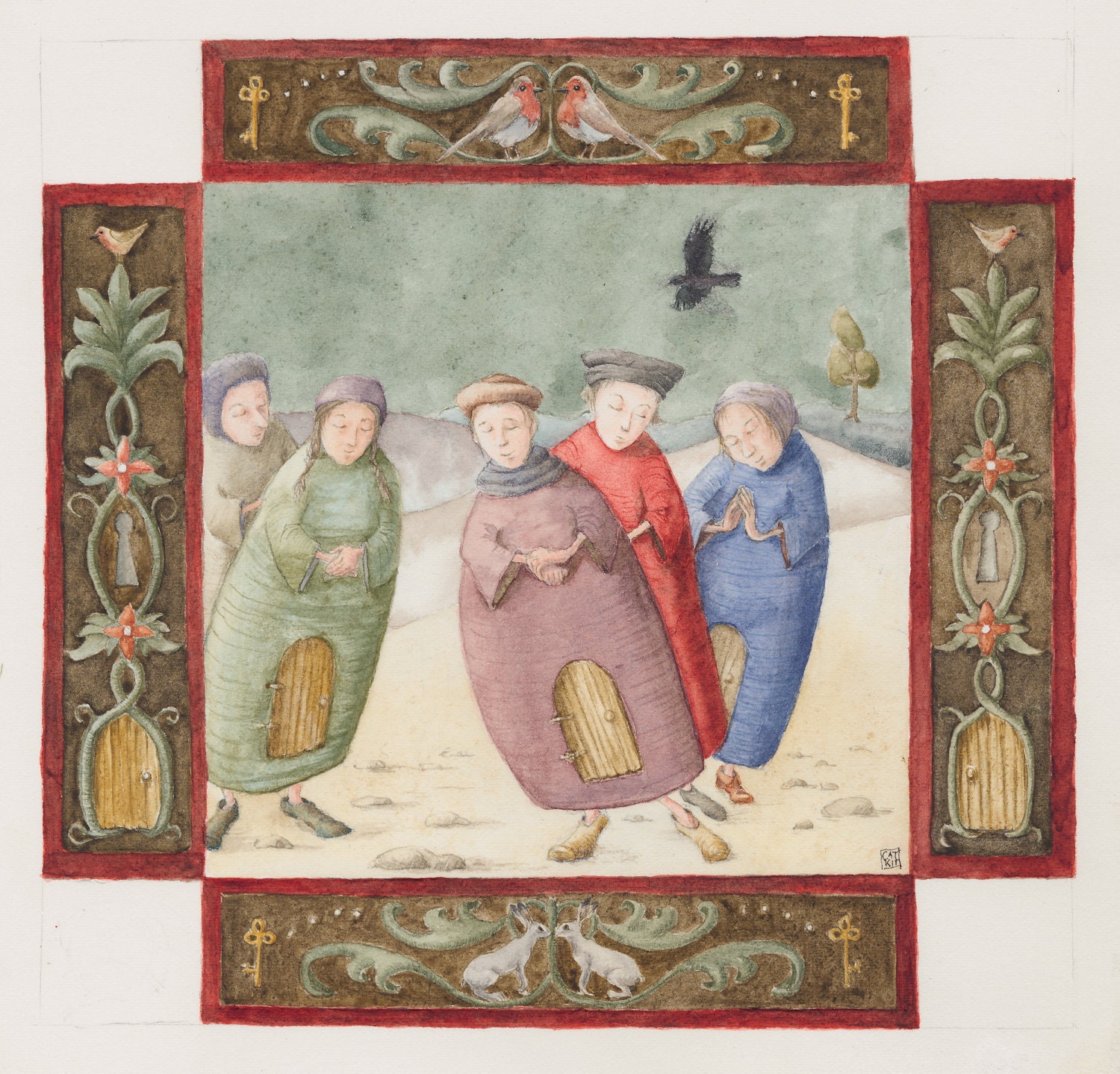 The Story Keepers
What first introduced you to wonder and fairy tales?
Oh gosh! That's a long time ago.
I suppose I was brought up with stories. My mother often read to us and my Grandfather would send us audio tapes of him reading stories and singing songs. He lived in England and I grew up in Australia so the tapes were the only way we could 'spend time with him' in between visits. Stories always carried me away to a place that felt as though it had more meaning to me than the everyday. They spoke of woods and animals that I loved and felt a kind of resonance with. Although the Australian bush has its own unique beauty and the wildlife is amazing . . . I always felt a longing for the Woodlands of Britain and Europe. I suppose Fairy tales in a way took me to a place that felt more like home than the place in which I lived.
Who or what inspires you?
Nature inspires me . . . it's overwhelmingly magical. Particularly old trees, streams, valleys, and wildlife, but the magic can be found in anything . . . from a pebble to a snowflake. . . It sets my imagination ablaze. I remember one particular time after I had spent a day walking in the Lake District, I closed my eyes in bed that night and my head was filled with moving images of gnarled trees turning into men and walking around the woods. . . It was incredible and so clear. . . I so desperately wanted to show someone what was in my head.
Do you have a favorite place to create?
Not yet . . . one day I hope to have an old cottage made from natural materials . . . and in it I will have a little nook for me to create in. I would like it to be on the ground floor with a view to a woodland and stream, oh, and I need to be near a door . . . for easy escape to the outside between brushstrokes (not asking for much, hey ?). For now I have a little room that looks out to a hawthorn tree from which hangs all my bird feeders . . . so I watch the birds and the little voles between washes.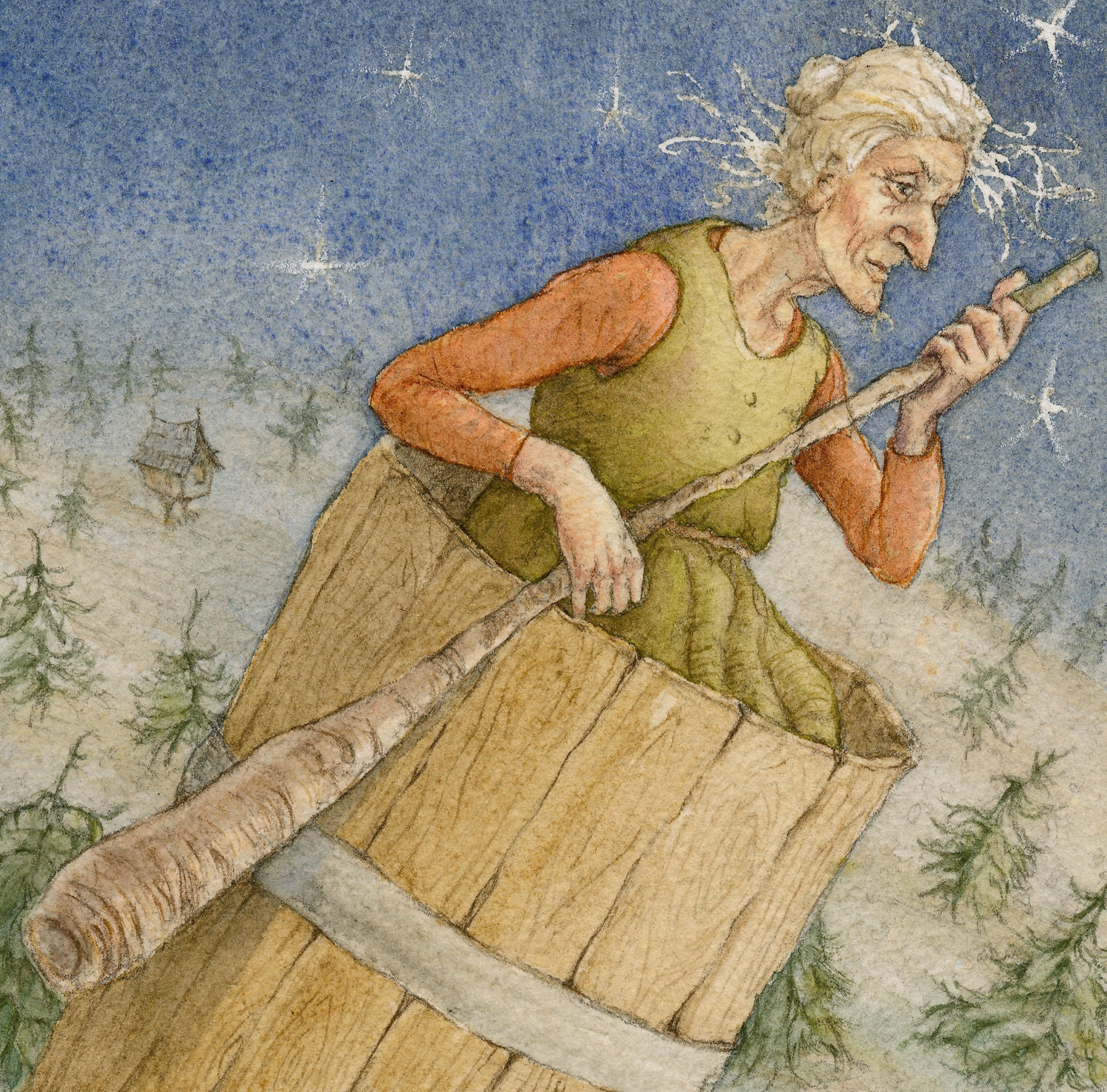 Baba Yaga
Who are your favorite mythic artists?
Hmm . . . there are probably quite a few:
Ivan Bilibin
Iassen Ghiuselev
Gennedy Spirin
Arthur Rackham
Kay Neilsen
Mercer Mayer
Alan Lee
John Bauer,
Lizbeth Zwerger
Errol le Cain
Edmund Dulac
And then of course there is the Pre-Raphaelite era.
Also I love the Russian Lacquer boxes. . . (the painters have to be extraordinarily talented.)
And, although I've never seen any work of his that relates to Myth or Fairy Tales, I can't not mention Kit Williams.
What is your favorite fairy tale, and why?
You know, I don't think I have a favourite tale . . . it's more the 'realm' of the myth and fairy tale that I'm in love with. I just love the space it takes me to . . . out of time and out of mind to a source of wonderful creativity. If I'm truly honest, I am often disappointed with the ending of fairy tales. . . they sometimes feel too simple, too quick and unsatisfying somehow. . . but then I'm not altogether sure whether that is just because they are ending and that means I may have to get on with the 21st century mode of 'doing'.
But if pushed, I have a fondness for East of the Sun and West of the Moon, especially Mercer Mayer's retelling. I think I like it because of the kindness, help, and gifts that she [the lass] receives along her journey. Each step and each experience she has is an integral part of the quest . . . bringing with it a feeling that nature is supportive and has a bigger picture, a bigger plan than we are aware of. At the end of the story we are left feeling in no doubt of her love for her young man because of the difficulties she has faced to be with him. He, in turn we feel safe with because, although she was very beautiful and rich, he chose her at a time when she was bedraggled and poor.
Hmm . . . I think it's safe to say I am an idealist and a romantic.
I also love the Celtic Selkie Tales. All the Selkie tales involve shape-shifting of some kind. I feel very at home with the idea of being part human, part animal . . . just an extension of my connection with nature, I suppose. I also love water . . . as a child, and less frequently as an adult, I often had dreams of being able to fly and being able to breathe under water. The most well known tale of the Selkie Wife has something about it that I resonate with. She is slightly adrift and different from humans and yet a no less devoted wife and mother. Her inner yearning for home is always there and undeniably strong.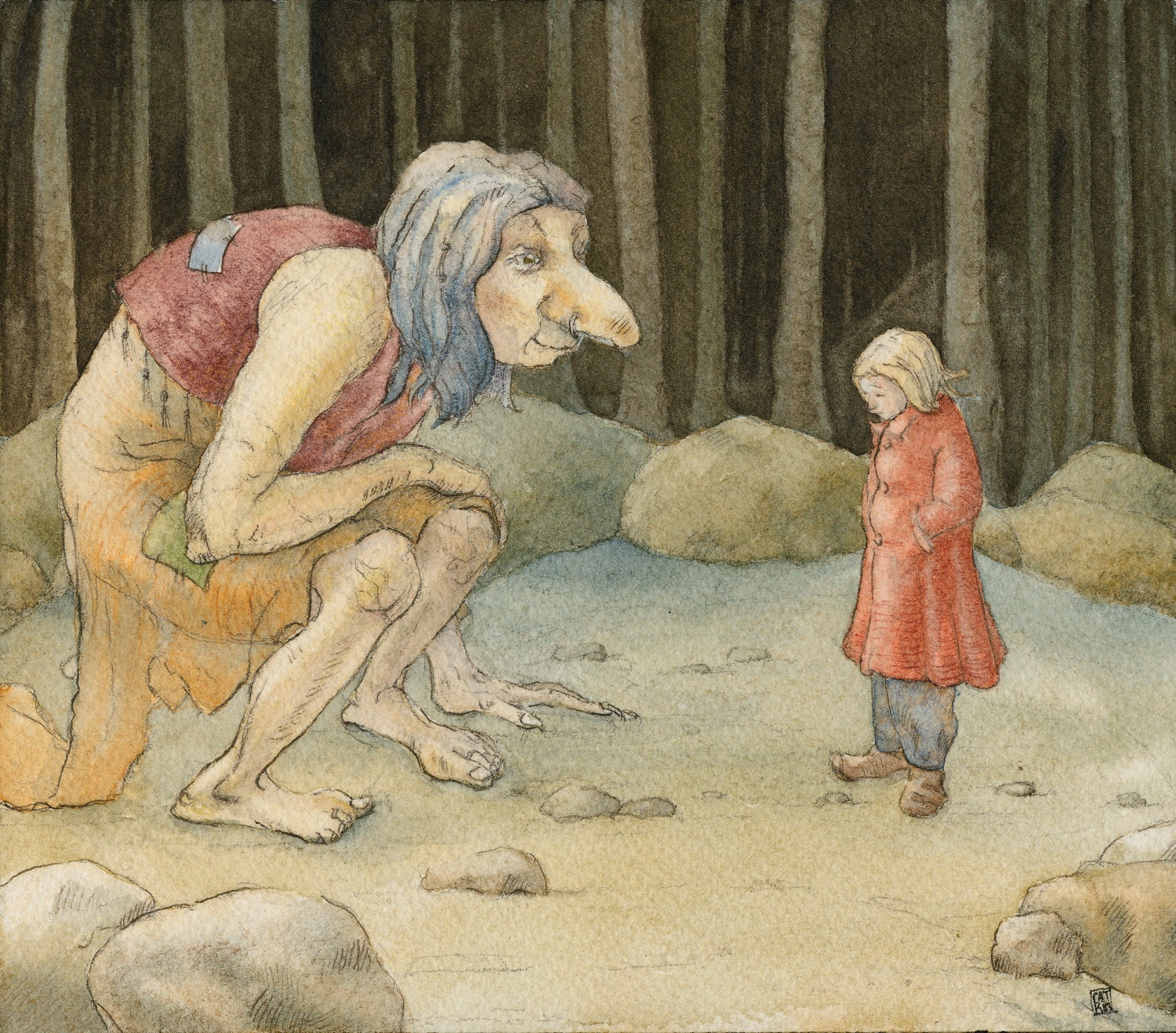 Troll Song
What are your upcoming projects?
Hmm . . . well I have a few in progress and they won't be rushed. I have at least two stories on the go but they will only be written (and then illustrated of course) when they feel like it. Both are folk tale-like in their quality. One of them is 'Troll Song' that appeared on a blog post of mine a while ago . . . it is turning out to be a sort of Shamanic Alice in Wonderland with stories interwoven within stories taking place both on land and within the realm of what I suppose might be described as Shamanic consciousness. Both influencing and interacting with one another, each with equal power upon the other. It is, on the surface, a story about Unn and her journeys with a kind, wise and magical old troll who guides Unn to find her real home. They share a journey on land during the day and, at night they share dream journeys and neither one is more important nor more real than the other. As the story progresses, the veil between the two world becomes very thin and, I hope, a sense of oneness between the two is felt.
The other is again a folktales within a folktale type of story. It's about a kind and talented carpenter and a beautifully magical piece of furniture that responds in a delightful way to the fireside stories that are being told within the room that it sits. The family are unaware that it is silently, intently listening, soaking up the stories word by word.
I am also delving into the realm of painting miniatures on wood with a view to making Music boxes decorated with Fairy Tales or Myths and Legends.
. . . And then there is another exciting one, but I am in the process of seeking help to design and engineer it, and . . . well . . . it's a secret. I can only say if it turns out any where near the image I have in my head I will be truly pleased.
On top of that I am starting up an holistic healing business . . . my other hat!
Why do you think fairy tales matter?
I just 'feel' deeply that they are truly important . . . I have never studied the subject but I feel they have a healing and magical quality about them . . . they speak to a part of us that is ageless and timeless. How old are you when you are listening to a storyteller? I am no age . . . I'm just there . . . in the moment . . . held within that space of creativity. . . It is very difficult for me to describe.
Where can we reach you?
Drop into theoldburrow.blogspot.com or email me theoldburrow@googlemail.com, and I'm also on etsy. The world of Facebook is as yet unknown to me but I may get there one day.